Those Who Served and Their Families
As the top choice of higher education for veterans using GI Bill® benefits1, we have the knowledge and experience veterans need to help ease their transition to civilian life and excel in their next mission. Our courses are online with no set login times. Our student body includes 9,000+ veterans and 5,000+ active members in our Student Veterans of America chapter. Veterans also work on our faculty and staff, which means they understand the sacrifice and grit necessary to serve our nation.
American Military University is honored to recognize that service by offering all veterans and their families a tuition grant for undergraduate and master's-level study. Family members eligible for this grant are parents, spouses, legal partners, siblings, and dependents. Veterans and their family members also receive no-cost undergraduate ebooks to further minimize educational costs.
A Few Reasons Why We Are #11
AMU Removes Barriers
$0
Application Fee
For Undergraduate & Master's-Level Programs
Doctoral Programs Have a $100 Application Fee

$0
Transfer Credit Evaluation Fee2
$315
Undergraduate Credit Hour
With Veteran Grant3
$382.50*
Masters-Level Credit Hour
With Veteran Grant3
*There is a technology fee of $85 for master's-level courses.
$0
Ebooks
Provided at no cost for undergraduate programs4
---
1Based on FY 2019 Department of Defense tuition assistance data, as reported by Military Times, 2020, and Veterans Administration student enrollment data as of 2023. GI Bill® is a registered trademark of the U.S. Department of Veterans Affairs (VA). More information about education benefits offered by the VA is available at the official https://www.va.gov/education/about-gi-bill-benefits/.
2The University reserves the right to accept or deny credits according to policies outlined on our University website.

3All veterans and family members (parents, spouses, legal partners, siblings, and dependents) are eligible to receive a 10% Veteran Grant on undergraduate and master's-level standard rate tuition. Tuition grants cannot be combined with any other special rates, promotions, or grants and only one can be applied per course.
4Ebooks are provided at no cost to all undergraduate, doctoral, and Preferred Military Rate-eligible master's-level students. A hard-copy textbook is provided at no cost if an ebook is not available.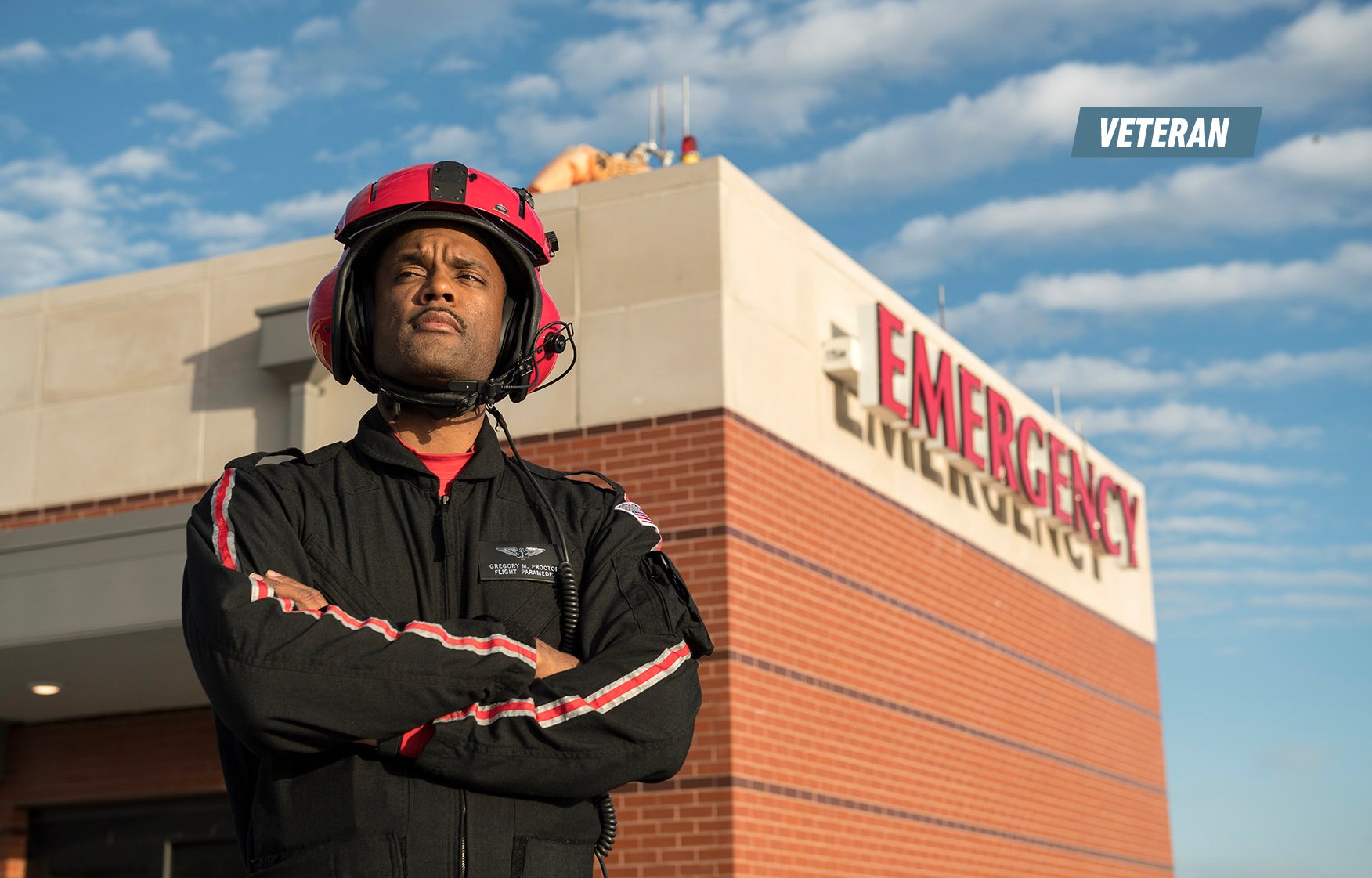 "I ALWAYS recommend AMU to friends and family, military or not, because the ease of interfacing with the educational content in my view is second to none. Also, books for associate and bachelor's study come at no cost, so that can't be beat!"
Gregory Proctor
BS, Fire Science Management
Transparency You Can Trust
Pursuing your higher education dream is a big enough decision without the added hassle of unexpected costs. To help you prepare, we're putting all the facts right here in black and white.
If you have not registered for courses during open registration, you may incur a $50 late fee. When you enter the course registration menu, you'll know if you are in the late registration period if you see a clock icon next to the course name. The late fee is nonrefundable.
The cost to apply for a certificate to be awarded is a one-time, nonrefundable fee of $25 per certificate program. The fee covers administrative costs associated with completing the certificate academic review and the printing, processing, and shipping of certificates.
For most degrees, the cost for graduation is $150. That fee includes the administrative costs associated with the graduation review, the processing of your diploma and transcripts, and the support and career services to all alumni.
Graduate programs have one of two end-of-course options; a comprehensive exam or a capstone project. For programs that end with an exam, there is a $250 fee.
There are three options for receiving copies of your academic transcripts from the university: official electronic transcript ($10 fee), official paper transcript ($20 fee), and unofficial electronic transcript ($5 fee). Transcript requests, which are submitted via ecampus, are processed electronically during normal business hours and will be complete and released within 90 minutes to 24
hours.
Note: These fees are not covered by Military Tuition Assistance.
Your Degree May Be Closer Than You Think
You may be able to turn your hard-earned military service into valuable college credit at American Military University. At no cost to you, AMU will review and apply eligible military service; prior training and on-the-job experience; and JST, CCAF, DSST, POST, ACE, and CLEP credits.* On average, veterans had 46 transfer credits applied to their program.**
*The University reserves the right to accept or deny credits according to policies outlined on our University website.
**Based on new veteran students pursuing a bachelor's degree in 2021.
Learn More About Transfer Credit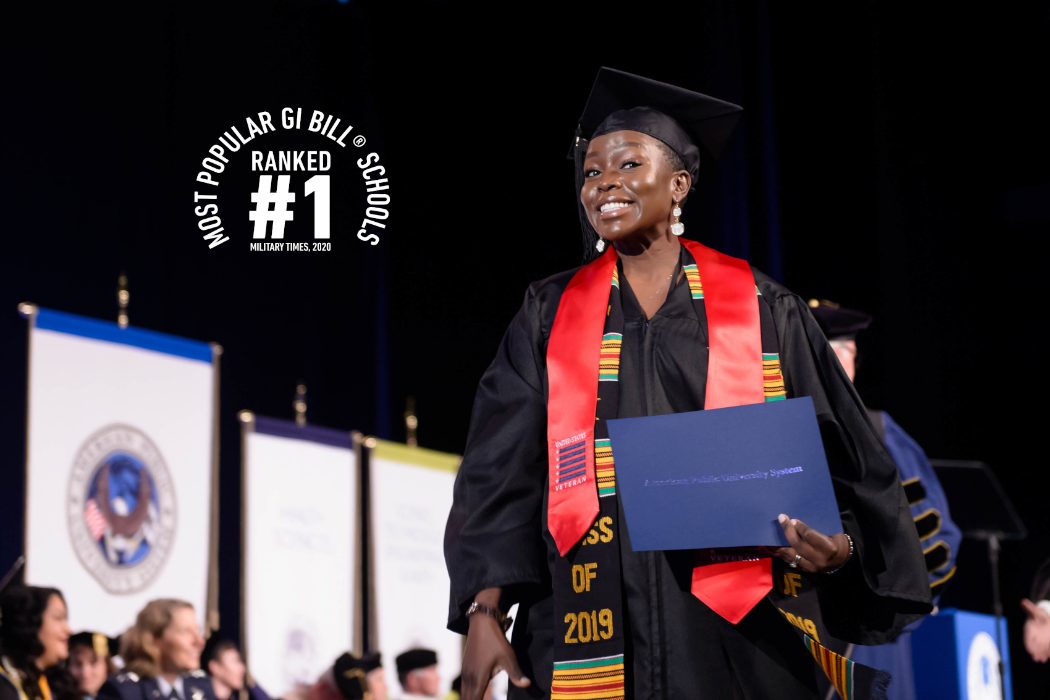 Veteran Benefits
At AMU, we have military veterans on our faculty and staff, and a dedicated veteran's support team. Here you'll find:
A school that provides GI Bill® options such as Top-Up and participates in the GI Bill® Yellow Ribbon Program
Individual help activating your veterans benefits, as well as academic and career support
Flexible online classes that let you study on your schedule, maintaining family, work, and travel commitments
Veteran Readiness and Employment VR&E (formerly Vocational Rehabilitation)
Additional Resources
Paying for School
Learn how you can use your benefits to pay for school.
VA GI Bill Comparison Table
Check out the GI Bill comparison table to understand which benefits are right for you.
GI Bill Application
Complete the GI Bill application on the VA Benefits website. Note: Enrollment verification cannot be submitted until the University receives a copy of your completed VA paperwork and you have successfully enrolled in a class. Once your paperwork is processed and you have started classes, the VA Certifying Official will electronically submit your Certification of Enrollment (22-1999).
Student Veterans of America
Join the 5,000-member strong AMU Student Veterans of America chapter.
Check Out Our Blog
Steps to Get Started
Additional Admissions Info by Branch
Servicemembers, spouses, and veterans are subject to the same general admission requirements as all other undergraduate students or graduate students.
Explore Branch-Specific Information
Next Steps
Courses Start Monthly
Next Courses Start Dec 4
Register by Dec 1