The Student Speaker Award is given to one master's student and one bachelor's student from each annual graduating class. The selected candidates are extended the opportunity to deliver the student honor's address at their respective graduation ceremony.
Graduate (bachelor's and master's level) with a 3.70 GPA
Graduate of the current graduating class (August 1, 2023 - June 1, 2024) who has submitted the graduation application
Well-spoken and able to capture the celebration of this capstone event within the time allowed (three minutes)
Nominations may be made by faculty, staff, students, alumni, and those familiar with the nominee's work.
Submit the Student Speaker Award application form along with the following:
Biography (maximum 150 words)
Professional resume
Letter of recommendation from a faculty member or supervisor
Text of the speech you would like to deliver at Commencement if you are selected
Video on YouTube or Vimeo of your speech (maximum length of three minutes
All materials are to be submitted in one complete application. Late or incomplete submissions will not be considered.
The University Awards Committee reviews submissions
Up to three finalists for each ceremony will be selected and may be contacted by the committee for follow-up questions
The committee will select the graduate and undergraduate student speakers
If selected, a final draft of your speech must be approved by the University Events team, who may provide edits for content and time
Award recipients will be honored during Commencement weekend, and should we have an in-person celebration, one-night accommodations and individual travel expenses to attend Commencement will be paid for by the University
Award recipients receive a Student Speaker Stole to wear during the ceremony
Award recipients are required to attend Commencement to accept the award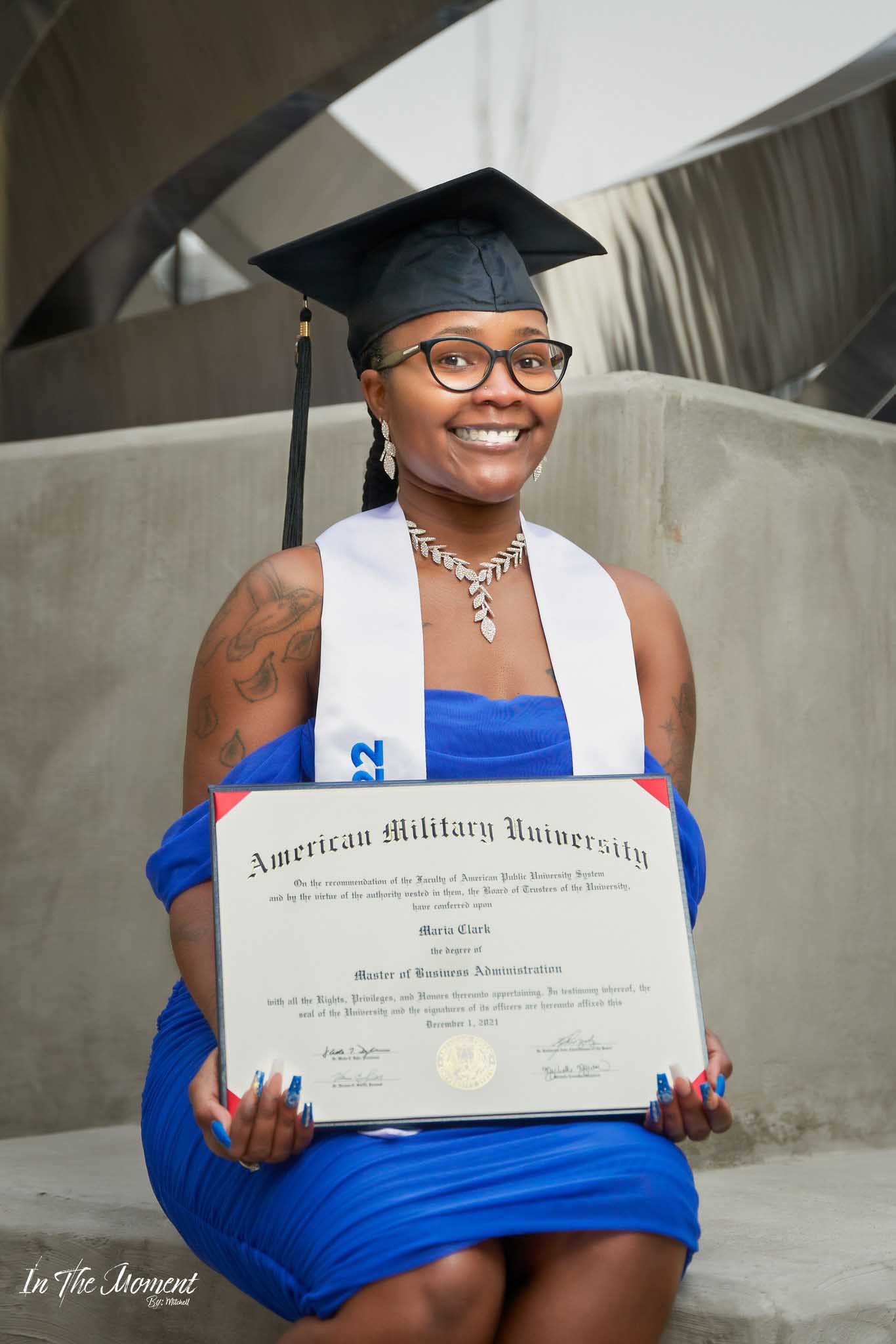 Maria Clark
Graduate Recipient
Maria Clark was born and raised in Cleveland, Ohio. She attended both private and public schools, where she demonstrated a strong ability and desire to excel in life and her educational studies.
After graduating high school, Maria joined the Armed Forces and worked her way up to the rank of Sergeant. She worked as an Automated Logistics Specialist for many years before using her military experience to excel and dominate the logistics industry in her civilian career.
Maria has since relocated to Arkansas, where she remains employed in logistics. She spent several years working at a multi-billion-dollar pipe manufacturer as a Logistics Supervisor before transitioning to a new career opportunity.
Maria enrolled at AMU to earn a MBA degree, maintaining a high GPA throughout her tenure with the university. While Maria is not the first in her family to graduate college, she is looked up to by most of her peers, family, and friends.
Maria is always looking for ways to advance, even offering to help others find the best in themselves. Maria loves to spend her spare time traveling, visiting with family and friends, and finding ways to better herself. She also enjoys taking on new tasks; therefore, Maria intends to return for her Ph.D. in the near future.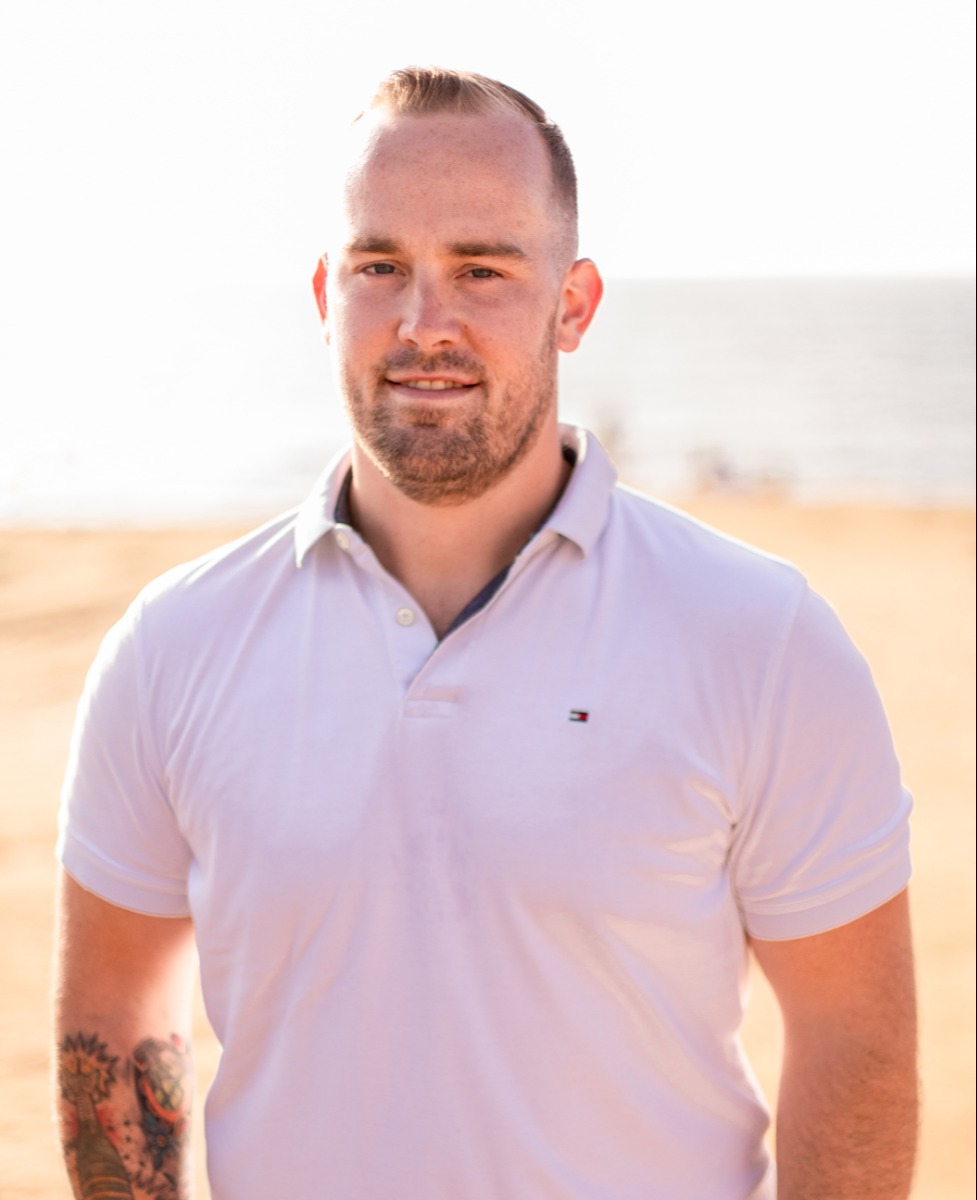 Ethan Grow
Undergraduate Recipient
Ethan Grow graduated from AMU with a bachelor's in information technology management and a GPA of 3.83. His degree was earned during years of active-duty service in the U.S. Navy
Ethan's first two years in the Navy were spent in service as a casket bearer with the ceremonial guard, where he developed his passion for leadership and the mentorship of his peers. As his career in IT and system administration developed, Ethan took on the challenge of completing a degree that would help to support his career after the military.
Ethan He now lives in Florida with his wife and two children and works for the DOD as a systems technician. In the future, he plans to obtain project management certifications to advance his career. Ethan enjoys hiking with his family, adventure racing, weightlifting and surfing.
The submission deadline is now closed. Please stay tuned in Fall 2023 for updates for the 2024 University Awards. For additional information or questions, contact the University Awards Committee.