The Student Organization Chapter of the Year Award recognizes an organization that has exemplified outstanding achievements in leadership, engagement, service, and commemoration.
No violations found or pending review of the student organization policy, or reported by the national chapter in the past year
Highest chapter standard distinction awarded for the award year
Provides evidence of regular and sustained achievements or recognition that support the award description
Demonstrates high-quality chapter activities aimed at engaging members
Evidence of an active and engaged leadership board
Recipient must be supported unanimously by the leadership team and advisors
Nominations may be made by faculty, staff, students, alumni, and those familiar with the organization's work. For additional information or questions, contact the University Awards Committee.
The University Awards Committee reviews submissions
Top candidates are submitted to the vice-president of Student Services for final review and approval
There may be more than one award winner selected in a calendar year (based on the discretion of the review committee); however, if no qualified candidates are nominated, the award may not be given
Award recipients are recognized during Commencement weekend
Individual plaques for Chapter Officers and Chapter Advisors
Perpetual Plaque in University Archives
Award recipients are not required to attend Commencement to accept the award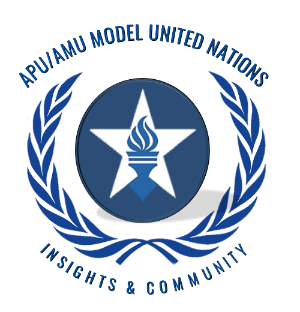 Model United Nations
The Model UN Club provides opportunities for its members to learn about the governing bodies, functions, and methods of the United Nations through first-hand experiences. This student organization strives to teach members about public speaking, group negotiation, and research and gives them the opportunity to practice these skills in a competitive forum.
Initially chartered in 2018, the Model UN Club has more than 370 members under the guidance of faculty advisors Dr. James Barney, Dr. Paula Wylie and Dr. Mily Kao. The Model UN Club has provided dozens of our University's students with a chance to network with their peers, learn from foreign policy experts, and apply the skills and information they learn through their participation in virtual and in-person Model UN conferences. The Model UN Club has used various tools, including social media sites, video conferences, the online classroom, and telephone to recruit members, prepare for conferences, and create a sense of community among club members.
In February 2021, Model UN Club members competed in a virtual conference hosted by the Osgood Center, winning six awards for their collective and individual efforts. In May 2021, club members earned more honors at a conference hosted by a non-governmental organization from Ecuador. This club's continued success throughout 2021 has demonstrated that its training methods, including lectures and workshops led by faculty and outside speakers, consistently produces results.
The deadline for the 2024 award nominations is January 26, 2024. For additional information or questions, contact the University Awards Committee.