Our students know that the master's and doctoral degrees open doors for new career opportunities, real-world impact, and leadership in their fields. Graduate study requires you to master and apply the theories in your discipline, and these degree levels require focused, intensive, and rigorous study and evaluation. But in the end, you'll be an expert in your field and will join only 8 percent of Americans who possess a master's degree and less than 2 percent with a doctoral degree!
We know that for many of you, returning to school after years in the workforce can mean learning new technologies, new research methods, and new content in your discipline. That's why our admissions team, academic advisors, and career services counselors are here to support you from start to finish. And be sure to make plans to attend your commencement ceremony as a way to celebrate your achievements!
Find the Program That's Right for You
Use our helpful program finder tool to compare programs.
Announcements
Subscribe to Our Newsletters
Stay current with what's happening in your world. From homeland security to law enforcement, sports and healthcare, learning, and career advancement — our blogs connect you with engaging topics from the experts at AMU.
Why get a graduate degree?
According to the Bureau of Labor Statistics, employers not only seek candidates with advanced knowledge in the field, but they also look for leadership potential with sophisticated communication and project management skills. Your master's program can prepare you to take the next step in your career. In addition to the potential for increased job opportunities and professional growth, our students tell us they pursue master's degrees to explore an interest, find research opportunities, build a professional network, and enhance their personal growth.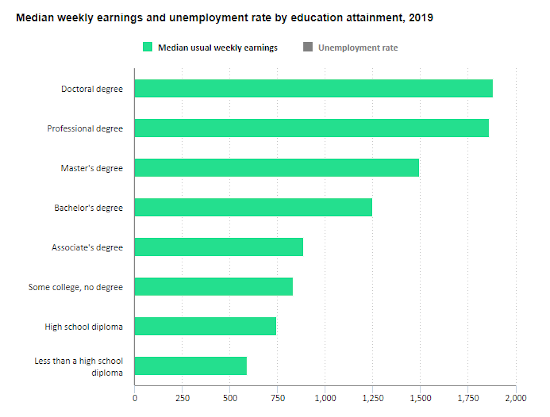 Source: Bureau of Labor Statistics
End-of-Program Requirements
You might think a master's degree means always having to write a long thesis, but you'll have a variety of end-of-program options, depending on your program's requirement.
Graduate Student Research & Resources
Your professional development is our priority. As a graduate student, you can collaborate with faculty members on research projects, both through coursework and independent study. Through capstone projects, you can contribute new knowledge to your discipline and create solutions for issues that affect your professional communities.
Institutional Review Board
The Institutional Review Board (IRB) reviews and approves all research involving human subjects to ensure that it is conducted in accordance with all federal, institutional, and ethical guidelines. Be sure to review all IRB guidelines before embarking on your research.
Graduate Studies Webinars
View us in the APUS Trefry library to register for a complete schedule of our Graduate Studies Webinars. These offer professional development in areas such as grant writing, preparing for your practicum experience, managing conflict in the workplace, and conducting research.
APUS ePress
The APUS ePress is an electronic academic publisher that provides access to specialty materials for the online classroom and for scholarly use. Within the APUS ePress is a repository that shares the academic work of university students and faculty. You can find examples of our master's theses, student journals, and faculty scholarships at APUS ePress.
Three Minute Thesis Competition
Imagine hearing an 80,000-word thesis explained in less than 180 seconds! Graduate students from across the globe are doing just that in preparation for the Three Minute Thesis Competition (3MT). Participation may help you cultivate your research, academic, presentation, and communication skills by condensing your research into a brief, engaging presentation using a single presentation slide. In addition, AMU holds a virtual 3MT competition each year.
Academic & Professional Skills
The university is a partner and major sponsor of the Policy Studies Organization (PSO), a Washington, D.C.-based publisher of academic journals and book series, sponsor of conferences, and producer of programs. You can attend and present at PSO conferences to engage in academic dialogue and network with colleagues in your field. In collaboration with PSO, the university publishes two peer-reviewed journals, the Internet Learning Journal and the Journal of Global Security and Intelligence Studies.
Degree Qualifications Profile
At AMU, we expect our graduates to translate their academic knowledge into real-world problem solving. To this end, our faculty works with the Lumina Foundation to implement our degree qualifications profile (DQP) framework. DQP focuses on what you should be able to know and do when you graduate from your program. Our key learning outcomes are infused into all of our graduate programs to create a rich learning experience focused on real-world implementation.
Online Research Library
The Richard G. Trefry Library is the leader among online universities in helping to define a new era in information services. In addition to approximately 72,000 scholarly journals, 244,500 books/ebooks, and hundreds of research guides, the library houses our recorded graduate studies webinars. We encourage you to visit the library often; access is via your student ecampus.
From Our Blogs
Next Steps
Courses Start Monthly
Next Courses Start Dec 4
Register by Dec 1