Save @ AMU
$0
Transfer Credit Evaluation
About This Program
American Military University's (AMU) master's in public health program prepares you to address today's most complex health issues to enhance the well-being of communities in the U.S. and abroad.
AMU's Master of Public Health (MPH) guides you through the scientific, psychological, and sociological elements that impact current public health policy and practices. Our CEPH®-accredited online MPH program studies the discipline through these core areas:
Biostatistics
Environmental health sciences
Epidemiology
Health policy and management
Social and behavioral sciences
Community and global health
This research-based public health master's program features courses such as Quarantine, Disaster Health Management, a practicum for hands-on learning, and a capstone.
The mission of the American Public University System (APUS) Master of Public Health (MPH) program is to prepare and educate students to promote health and well-being as public health practitioners through excellence in teaching, research, and service in preparation for leadership opportunities in a diverse and global society through a student-focused learning environment.
NOTE: This program has special admission requirements.
Please be advised that due to the COVID-19 outbreak, many hospitals are not allowing internship placements at this time. We are making you aware as this may adversely impact your time to completion. Please speak with the practicum placement coordinator if you have questions by emailing [email protected].
CEPH® is a registered trademark of the Council on Education for Public Health.
What You Will Do
Evaluate screening methods of epidemiology using statistical analysis and the impact of disease occurrence, both past and present, on population health
Evaluate the effects of environmental factors on the health of populations and discuss appropriate policies to prevent and manage environmental hazards
Apply emergency preparedness and disaster health management to public health and healthcare settings
Analyze health policies or regulatory systems to address the management of population health
Develop programs and/or interventions that effectively address the social determinants of health and health disparities
Degree at a Glance
Accredited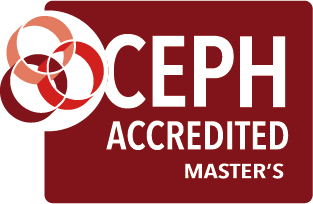 Courses Start Monthly
Online
Must take all courses for this section.
Select any courses that have not been used to fulfill major requirements. Credits applied toward a minor or certificate in an unrelated field may be used to fulfill elective credit for the major.
Choose 3 credit hours from this section.
This course serves as the culminating experience for the Master of Public Health degree. Students must pass this course for degree conferral. The Comprehensive Examination ensures that the student has mastered the program competencies, the Council on Education for Public Health (CEPH®) competencies, and the knowledge expected of a professional in the public health field. The course is 8 weeks of self-study using classroom resources and resources from the courses throughout the MPH program followed by an exam structured to mirror the CPH (Certified in Public Health) Exam. The two-part comprehensive exam includes multiple choice questions that mirror the CPH exam followed by in-depth take-home essay questions that address University program and CEPH competencies. The multiple-choice question portion of the Comprehensive Examination will be proctored and students will follow the Comprehensive Exam policies and guidelines as written in the EOP Manual for Master's Programs. Note: The CPH is an exam administered by the National Board of Public Health Examiners for professionals in the public health field (https://www.nbphe.org/). After successful completion of this exam, students are encouraged to sit for the CPH exam (but this is not part of the University's MPH degree program). CEPH® is a registered trademark of the Council on Education for Public Health.
| Registration Dates | Course Dates | Session | Weeks |
| --- | --- | --- | --- |
| 04/24/23 - 09/29/23 | 10/02/23 - 11/26/23 | Fall 2023 Session B | 8 Week session |
| 05/29/23 - 11/03/23 | 11/06/23 - 12/31/23 | Fall 2023 Session I | 8 Week session |
| 07/31/23 - 12/29/23 | 01/01/24 - 02/25/24 | Winter 2024 Session B | 8 Week session |
| 09/25/23 - 03/01/24 | 03/04/24 - 04/28/24 | Winter 2024 Session D | 8 Week session |
This course will involve a major research paper or thesis option that demonstrates understanding of the program objectives. The research paper and thesis will demonstrate understanding of social science research methodology. A Research Manual with explicit guidance for the research paper and thesis option will be available. The student shall select their research paper or thesis option professor from designated APUS faculty. NOTE: This course may not be taken until all other courses are COMPLETED and student has a 3.0 GPA. THIS COURSE IS 16 WEEKS.
| Registration Dates | Course Dates | Session | Weeks |
| --- | --- | --- | --- |
| 04/24/23 - 09/29/23 | 10/02/23 - 01/21/24 | Fall 2023 Session A | 16 Week session |
| 05/29/23 - 11/03/23 | 11/06/23 - 02/25/24 | Fall 2023 Session K | 16 Week session |
| 06/26/23 - 12/01/23 | 12/04/23 - 03/24/24 | Fall 2023 Session C | 16 Week session |
| 07/31/23 - 12/29/23 | 01/01/24 - 04/21/24 | Winter 2024 Session A | 16 Week session |
| 08/28/23 - 02/02/24 | 02/05/24 - 05/26/24 | Winter 2024 Session K | 16 Week session |
| 09/25/23 - 03/01/24 | 03/04/24 - 06/23/24 | Winter 2024 Session C | 16 Week session |
Courses Start Monthly
Next Courses Start Dec 4
Register by Dec 1
Admission Requirements
All AMU master's degree and graduate certificate programs require a bachelor's degree (or higher) from an institution whose accreditation is recognized by the Council for Higher Education Accreditation (CHEA).
In addition, the following documentation is required for admission into this program, and must be provided prior to course registration:
Three (3) character references
Official transcripts showing a conferred bachelor's degree or higher
Your resume/CV
Statement of purpose and interest
Note
Courses in this program are open only to students admitted to the program. These courses will not be available as electives in another program or for non-degree-seeking students.
Please read all graduate admission requirements before applying to this program and be prepared to submit the required documentation including a legible copy of your valid government-issued photo ID (civilian students) or government-issued JST or CCAF transcript (military students).
There is no fee to complete the AMU admission application for this program. View steps to apply.
An AMU admissions coach will contact you via email or phone to assist you with the enrollment process, review your documentation, and to notify you when you have been admitted into the program and may register for courses.
Materials Cost
Most courses in this program use Open Educational Resources (OER). These teaching, learning, and research materials are made available to you at no cost, meaning there are minimal book costs associated with earning this degree.
There is a one-time fee for Typhon student practicum tracking software. This fee will be paid directly to the Typhon group. Technology fee: $85 per course
Need Help?
Selecting the right program to meet your educational goals is a key step in ensuring a successful outcome. If you are unsure of which program to choose, or need more information, please contact an AMU admissions coach at 877-755-2787 or [email protected].
Quality Education Should Be Affordable
So you can focus on the opportunities ahead, without the financial burden of more expensive schools who are not as invested in your success. Learn more about paying for school.
Consumer Information
Disclosures
Maryland Residents learn more about costs, completion rates, median debt, and more.
1The University reserves the right to accept or deny credits according to policies outlined on our University website. Please see the University's transfer credit policy webpage for complete information.
2Alumni Graduated with No APUS-incurred Student Loan Debt As of December 31, 2021
Includes alumni who graduated with an associate, bachelor's, or master's degree from APUS. Student loan debt is defined as student loans and private education loans used for tuition, fees, living expenses, and book costs associated with courses taken at APUS. Many APUS students receive military tuition assistance and veterans education benefits, which are not student loan debt.
*Cost Per Credit Hour
AMU's Preferred Military Rate is $250 per credit hour for all undergraduate and master's-level courses. This rate is available to all U.S. active-duty servicemembers, National Guard members, Reservists, and military families, including parents, spouses, legal partners, siblings, and dependents.
See all military student benefits.
Cost of Attendance

Learn more about AMU's cost components and full cost of attendance.