Dr. Katelyn Milliman
Full-Time Assistant Professor, Science, Technology, Engineering, and Math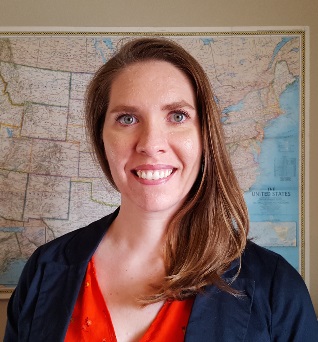 Education
Ph.D. in Astronomy

University of Wisconsin - Madison
M.S. in Astronomy

University of Wisconsin - Madison
Intellectual Contributions
Presentations
The Future of Earth and Planetary Science in Higher Education: A Community Conversation
Space Education and Strategic Applications (SESA) Conference - Accepted
September 2022
Student Perspectives on Research Experiences for Non-traditional Students
Space Education and Strategic Applications (SESA) Conference
September 22, 2022
Space Studies Panel Discussion
wSTEM and AWIS Presentation
January 20, 2022
Radial-Velocity Measurements and Spectroscopic Binary Orbits in the Open Cluster NGC 7789
AAS Meeting 236
June 2, 2020
The APUS Supernova Search Program: A Scientific Leadership and Research Opportunity for Graduate and Undergraduate Students
International Astronautical Conference 2019
October 21, 2019
Supernova Search with the APUS Observatory
APUS Brown Bag Seminar
June 11, 2019
Learning about the Galaxy
Science Day
May 23, 2019
The APUS Supernova Search Program: Getting Undergraduate Students Excited About Astronomy
AAS Meeting 233
January 8, 2019
The Sun and Moon
Science Week at Learningville School
October 2018
SpaceX Journey to Mars
Knowledge Mavens
March 2018
Gravitational Wave Detection
Knowledge Mavens
January 2018
Barium Enhanced Blue Stragglers in NGC 6819
Binary Stars in Cambridge
July 2016
Sub-Subgiants in Old Open Cluster NGC 6791
AAS Meeting 227
January 2016
Barium Enhancement in NGC 6819 Blue Stragglers
AAS Meeting 225
January 2015
Barium Enhancement in NGC 6819 Blue Stragglers
Astronomy Department Science Lunch
November 2014
Surface Abundances of NGC 188 Blue Stragglers
AAS Meeting 222
June 2013
Formation of Blue Stragglers in Open Cluster NGC 188
Astronomy Department Science Lunch
June 2013
Certifications and Licensure
January 20, 2021
CITI - IRB Members - Basic/Refresher
Collaborative Institutional Training Initiative (CITI)
December 22, 2017
CITI - IRB Members - Basic/Refresher
Collaborative Institutional Training Initiative (CITI Program)
Awards & Honors
July 15, 2022
Unsung Leader Award
APUS
For those whose contributions to Academics come not from title, but from their hard work and their inspiration of others to become better leaders. This individual shows initiative, demonstrates motivation, and makes Academics a more inclusive organization.
June 30, 2021
Outstanding Leadership
APUS
Students for the Exploration and Development of Space (SEDS)
June 16, 2021
2020 University Strategic Initiative – Catalyst – Learning Management System Migration
APUS
During 2020, the earner of this badge made significant contributions to the migration of courses to a new online classroom to improve user experience, promote student-to-student and faculty-to-student interaction, enable a robust mobile classroom, and further differentiate APUS as a leader in online learning.
2016
Dissertation Completion Fellowship
Wisconsin Alumni Research Foundation
2014
Graduate Fellowship Award
Wisconsin Space Grant Consortium
2013
Chambliss Astronomy Achievement Award
American Astronomical Society
2013
Graduate Fellowship Award
Wisconsin Space Grant Consortium